Not to be confused with Jr. Balrog and Crimson Balrog.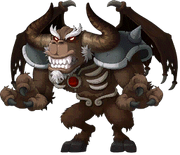 Story
Balrog is an evil spirit was once sealed in the Underground Temple in Sleepywood by Tristan, a legendary hero who died in place of Manji. Balrog had been resurrected from the darkness, the reason behind its resurrection is not known. Upon Balrog's death, it mentions that one day his full power will be back, and rule Maple World again.
Battle Overview
Balrog often summons Baby Balrogs which can be an annoyance. Eventually, Balrog will try to heal itself, noticeable when Balrog is darkened, in which pillars must be hit to stop the healing process, otherwise, Balrog will heal a massive amount of HP. There is also a time limit, if the player runs out of time, they will be booted from the battle.
Monster
Balrog (Boss)
Level
45
HP
2,400,000
MP
30,000
EXP
0
Knockback
50,000
Speed
Stationary
Accuracy
25
Avoidability
16
Weapon Attack
322
Weapon Defense
200 / 25%
Magic Attack
336
Magic Defense
320 / 25%
Resistant to
None
Weak to
None
Immune to
None
Undead?
No
Category
Devil
Equipment Drops
None
Usable Drops
None
Etc. Drops
None
Quest Drops
None
Locations
None
Balrog (Boss)
Level
49
HP
1,152,000
MP
3,000
EXP
0
Knockback
50,000
Speed
Stationary
Accuracy
36
Avoidability
20
Weapon Attack
377
Weapon Defense
500 / 25%
Magic Attack
362
Magic Defense
250 / 25%
Resistant to
None
Weak to
None
Immune to
None
Undead?
No
Category
Devil
Summons
Jr. Balrog, Crimson Balrog
Equipment Drops
None
Usable Drops
None
Etc. Drops
None
Quest Drops
None
Locations
None
Balrog (Boss)
Level
49
HP
1,235,520
MP
30,000
EXP
0
Knockback
50,000
Speed
Stationary
Accuracy
36
Avoidability
20
Weapon Attack
381
Weapon Defense
250 / 25%
Magic Attack
372
Magic Defense
150 / 25%
Resistant to
None
Weak to
None
Immune to
None
Undead?
No
Category
Devil
Equipment Drops
None
Usable Drops
None
Etc. Drops
None
Quest Drops
None
Locations
None
Balrog (Boss)
Level
50
HP
4,787,520
MP
0
EXP
0
25 (Ambition)
Knockback
1
Speed
Stationary
Accuracy
36
Avoidability
20
Weapon Attack
376
Weapon Defense
0 / 25%
Magic Attack
379
Magic Defense
0 / 25%
Resistant to
None
Weak to
None
Immune to
None
Undead?
No
Category
Devil
Summons
Baby Balrog
Equipment Drops
None
Usable Drops
None
Etc. Drops
None
Quest Drops
None
Locations
None