Ad blocker interference detected!
Wikia is a free-to-use site that makes money from advertising. We have a modified experience for viewers using ad blockers

Wikia is not accessible if you've made further modifications. Remove the custom ad blocker rule(s) and the page will load as expected.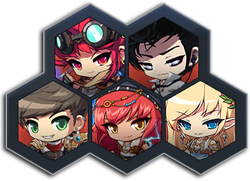 A class is essentially the selection of jobs to choose for pursuing in MapleStory. Every new player has to create a character that belongs to one of the classes to get started in the game. After the creation, one will start off as a novice and begin their journey in MapleStory.
Novices start off in their respective beginner areas (eg. Explorers at Maple Island), and they are guided through in the area to help them understand the gameplay of MapleStory, the guided quests will provide trainings in order for them to level up. When a novice reaches a particular level (usually level 10), they will meet their first Job Advancement, where the novice will receive a new set of skills to make trainings more efficient.
Classes like Explorers, Cygnus Knights and Resistance contain sub-category jobs for players to choose from in-game. Most start off at level 1 but classes like Mercedes and Demon start off at 10 as their tutorial are mostly covered by cutscenes and videos.

Click on one of the following classes and jobs below.
Skills
Skills are various, unique abilities that can be learnt and mastered by each class and job. Each skill is categorized in this wiki as Active, Passive or Stat. Active skills are used by players with animations being played on or near their characters. Passive skills and Stat skills apply bonuses without the need to activate the skill, and help the player, such as increasing attack or defense.
Skills are sorted into job advancements, where players can unlock a set of skills after each job advancement.
Miscellaneous
Explorers

Warrior

Magician

Bowman

Thief

Dual Blade

Pirate

Cannoneer


Zen

Jett
Cygnus Knights

Dawn Warrior

Blaze Wizard

Wind Archer

Night Walker

Thunder Breaker


Mihile
Heroes
Resistance
Nova
Sengoku
Child of God
Zero
Monster
Pink Bean
Beast Tamer

Chase
Kinesis

Kinesis