Requires Clean-up
This article requires clean-up to meet MapleWiki's quality standards. You can help MapleWiki by improving it. The talk page may include suggestions.
Main article: NPC
Non-player characters, or NPCs, are scripts in MapleStory that can interact with players, though they are not players themselves. NPCs have various functions: some give quests, some are vendors, while others serve no purpose at all.
NPCs are found mostly in towns, though some are located in hunting grounds.
Transportation
Edit
Transcontinental
Edit
The following transportation methods will take Maplers across continents.
Instant trips
Edit
Non-instant trips
Edit
Between areas
Edit
The following transportation methods will take Maplers between different areas.
Instant trips
Edit
Non-instant trips
Edit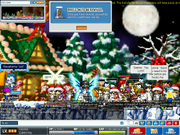 Death is an event that occurs in MapleStory, when this happens, the player turns into a ghost and a gravestone falls from the sky, and the player will be sent to a safe spot, and will start with 0 MP and 50 HP, so it is advised to heal after dying, by using chairs, potions, or healing areas.
However, having a Wheel of Destiny in the Cash Inventory revives the player in the same spot they were in, having one of these is suggested for hard bosses or parties.
Some bosses have a death counter, enabling one to revive in the same location for a limited amount of times. Effects are different for each death counter, for example the boss Magnus, he will start using his attacks at an infinite range, which all result in an instant death, for Root Abyss bosses, the respective player will not be able to revive until the whole party is defeated or the boss is defeated.
GlobalMS released its own marriage system based on western culture, the ceremony is held in an area called Amoria, and all versions except ChinaMS have this area. It is located outside of Masteria and requires various quests, including the getting a wedding ring. Unlike other versions, players have a variety of wedding rings they can try to make. Each of these rings carry various statistic bonuses and are also upgradeable via upgrade scrolls.
The marrying couple may also invite friends to attend the ceremony by sending invitation cards (available in the Cash Shop). After the ceremony, both players will receive a Diamond Ring as proof of the marriage. The ring is vital to the marriage system, because if one of the players loses the ring, they will be unable to divorce.
Marriage can help the couple to heal HP and MP 3 times faster than normal healing rate while they are on the same map.
The Traditional Chinese Marriage system is only available ChinaMS. The wedding ceremony is held at Peach Blossom Island (accessible via monk NPCs in Henesys, Orbis and Ludibrium). In order for the couple to enter the ceremony hall, players will need to wear a Crush Ring (purchased from the Cash Shop), and marriage clothes (Western clothes can be purchased from an NPC on Peach Blossom Island with Mesos, or players that wishes to be more traditional, Chinese clothes can be purchased from the Cash Shop).
Cash Shop
Edit
Main article: Cash Shop
The Cash Shop is an in-game store that sells various game items for Nexon Cash, A-Points, and Maple Points. Real-life money is used to purchase Nexon Cash or A-Points. Purchasable items include equipments, stores, megaphones, and pets.
The Cash Shop can be accessed by clicking the Cash Shop button on the bottom menu bar.
Ad blocker interference detected!
Wikia is a free-to-use site that makes money from advertising. We have a modified experience for viewers using ad blockers

Wikia is not accessible if you've made further modifications. Remove the custom ad blocker rule(s) and the page will load as expected.