Season 2 is a SEA-exclusive six-part update following Justice and before Cygnus Returns, combining Tempest and most of the updates in Unlimited. It contains many changes and additions including a new UI, increased drop rates, a new realm, adjusted job advancements, hyper skills, new character classes and Monster Life.
Part 1 : Season 2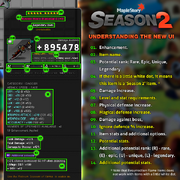 All classes except Cygnus Knights get a minor revamp. Third job advancement now requires Maplers to be at Level 60 instead of 70, and Fourth job advancement now requires Maplers to be at Level 100 instead of 120. Several quests, Level requirements on certain equipment and EXP needed to level up between Levels 60 to 75 and 100 to 125 were adjusted accordingly.
Secondary stats on most equipment were removed, and auto-assigning to stats does not input AP into the secondary stat.
The drop rate of all equipment has been increased from 5 to 10 times its regular rate, and its potential has a greater chance to be a rank higher than Rare.
Many equipment were given Additional Options, further increasing the stats of the item.
Secondary equipment implemented for all classes.
Bits system added, where players can collect Bits to receive set effects.
All tooltips are replaced with a sleek new one.
Honor EXP needed to level up is significantly reduced, and the time restriction for earning Honor EXP in Azwan is removed. Several circulators were also merged.
All existing party quest entrance NPCs have been moved to three maps: Party Quest Entry: Beginner, Party Quest Entry: Intermediate and Party Quest Entry: Advanced.
Hyper Skills for Aran, Evan, Mercedes, Phantom, Luminous, Kaiser, and Angelic Buster are added.
Monster Park Extreme added.
Area Revamp: Kerning Square.
New Areas: Fantasy Theme Park and Sakura Castle.
New Party Quest: Tangyoon's Cooking Class.
New Boss: Chaos Pink Bean.
Part 2 : Vengeance Reborn
Part 3 : A Star is Born
Part 4 : The Fallen Nobles
Part 5 : The First Hybrid
Part 6 : Monster Life
Monster Life makes an opening which allows players to receive buffs based on their beauty of their farms.
Gallery
Trivia
Availability of MapleStory: Season 2
| | | | | | |
| --- | --- | --- | --- | --- | --- |
| Korea | Japan | China | Taiwan | Global | SEA |
| Unlimited | Spark | Spark | Spark | Spark | Available |
Update Patches
Big Bang (Jul 2010)

Chaos (Dec 2010)

Jump! (Mar 2011)

Legends (Jul 2011)

Advance of the Union (Oct 2011)

Justice (Dec 2011)

Tempest (Jul 2012)

Unlimited (Dec 2012)

Cygnus Returns (Jan 2013)

RED (Jul 2013)

FLY (Sep 2013)
You & I (Dec 2013)

Coordinator's Touch (Jul 2014)

Maple Ice & Burn (Dec 2014)

Giseungjeon12 (Feb 2015)

Reboot (Jun 2015)
Heroes of Maple (Nov 2015)

V (Jun 2016)

Beyond (Dec 2016)


Nova (Jun 2017)
---
Others:
Mark of Honor (Jul 2012)

Season 2 (Apr 2013)

Spark (Jul 2013)

​
Ad blocker interference detected!
Wikia is a free-to-use site that makes money from advertising. We have a modified experience for viewers using ad blockers

Wikia is not accessible if you've made further modifications. Remove the custom ad blocker rule(s) and the page will load as expected.