V

Under construction
This article or section is currently in the middle of an expansion or major revamping. The information contained within this article should not be considered to be fully accurate until the article contributor(s) have removed this tag. You can help MapleWiki by contributing to it.
V is an update following Heroes of Maple which will introduce the 5th Job Advancement.
Pre-Update
1st: 5th Job Advancement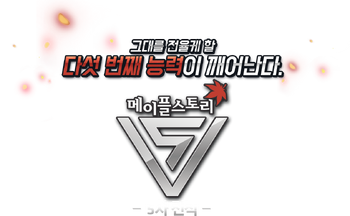 5th Job released
New Equipment System <Arcane Symbol>
Arcane River–Road of Vanishing
Growth/Battle System Reorganization

EXP required to level up lowered
Attack, defense system reorganized
Maximum damage removed

UI reorganization
2nd: Chew Chew Island
Arcane River's second area 'Chew Chew Island' open

Chew Chew Island's special 'Field Hunting'

V Matrix Maker Mode open
Chew Chew Island Arcane Symbol released

Arcane Symbol maximum growth level raised
3rd: Lucid
New BOSS 'Lucid' open
Level 200 'Arcane Shade' equipment are added
New party quest 'Hungry Muto' are added
Trivia
MapleSEA splitted the update into 5 Parts, including Part 3, as the Class Release of Blaster.
Gallery
External links
Availability of MapleStory: V
| | | | | | |
| --- | --- | --- | --- | --- | --- |
| Korea | Japan | China | Taiwan | Global | SEA |
| Available | Available | Available | Available | Available | Available |
Update Patches
Big Bang (Jul 2010)

Chaos (Dec 2010)

Jump! (Mar 2011)

Legends (Jul 2011)

Advance of the Union (Oct 2011)

Justice (Dec 2011)

Tempest (Jul 2012)

Unlimited (Dec 2012)

Cygnus Returns (Jan 2013)

RED (Jul 2013)

FLY (Sep 2013)
You & I (Dec 2013)

Coordinator's Touch (Jul 2014)

Maple Ice & Burn (Dec 2014)
Giseungjeon12 (Feb 2015)


Reboot (Jun 2015)
Heroes of Maple (Nov 2015)

V (Jun 2016)

Beyond (Dec 2016)
---
Others:
Mark of Honor (Jul 2012)

Season 2 (Apr 2013)

Spark (Jul 2013)
Ad blocker interference detected!
Wikia is a free-to-use site that makes money from advertising. We have a modified experience for viewers using ad blockers

Wikia is not accessible if you've made further modifications. Remove the custom ad blocker rule(s) and the page will load as expected.