Zero
Talk

0
9,976pages on
this wiki

Zero is the Child of God Rhinne, the Transcendence of Time. Zero starts at Level 100, and has two personae - Alpha and Beta.
Description
Zero, unlike other classes uses a complex storyline known as chapters. Each chapter is different with different challenges. Before reaching level 180, they can only complete quests and level up in dungeons inside the Mirror World, a different version of the Maple World that is created by the Black Mage to trap Zero. Additionally, they are also unable to gain experience in the Maple World until the storyline is completed.
Mastery
Instead of using MP, TF (Timing Force) is used instead. Alpha specializes in movement attacks and critical attacks, enabling it to attack much faster, while Beta specializes in defensive skills and heavy attacking, therefore attacking slower than Alpha skills.
Zero can battle monsters with either two methods which are: Tagging or Assisting Route. Tagging allows you to alternate between Alpha or Beta. Assisting Route means that after a period of time, Alpha and Beta will combine their strength that allows you to deal very high damage.
Time force replenishes very quickly, allowing you to continously activate many skills. It replenishes at double rate during Tag Mode.
Clothing
As we know, there are two characters that you are able to control. Because of this, with clothing, Alpha and Beta will be wearing the same clothing if its cash items. i.e if you purchased a NX item, then by equiping it, both of your characters will have the item equiped.
Skills
Skills of the class Zero are divided into two sections; one for Alpha and one for Beta. Both recieve SP everytime you level up (like any other class). Though the only difference is that Zero only has one Job Advancement. Skills are unlocked as you level up. Thus having a very long list of skills.
When you level up, with both sides getting 3 SP.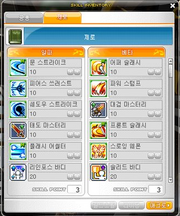 Gameplay
Zero is the only class ever to be made starting on level 100. With the addition of new mini dungeons located in various places like Henesys and Ludibrium.
Zero's skills are based off of chaining and switching between the two effectively to imply more damage.
Gallery
Trivia
Availability of Zero
| | | | | | | |
| --- | --- | --- | --- | --- | --- | --- |
| Korea | Japan | China | Global | SEA | Taiwan | Europe |
| Available | Unavailable | Unavailable | December 18 | Soon | Unavailable | Unavailable |